Around 2.5 million dried and prepared insects are stored in our cellar. You can usually only gain access to these temperature-controlled and highly secure rooms as part of a special tour or as an insect researcher. Now, however, you can also view our valuable insect collection from the comfort of your own home: on our new Flickr portal, we are displaying our incredible insect cases via high-resolution photos. They are all categorised by groups and can be searched for using various keywords. Thus far (as of June 2019), insect researcher Hannes Baur and his team have reproduced around a third of the 6,000 cases. New images are continually being added, and in a few years, all the cases will be available to view online.
Digitalisation and its benefits
The value of a natural history collection is hard to quantify, because many objects are irreplaceable. This is why preserving them for the next generation is a central task for natural history museums. Digitalisation is an important tool to this end; our photo archive demonstrates some of its benefits. To begin with, it makes the collection accessible to a wider audience, free of charge and from their own homes. This provides an important basis for understanding current debates: at the moment, as insects die out, our collection is a key witness to the beauty and transience of these animals.
The platform also possesses huge potential in terms of research. It gives scientists from abroad a better overview of what our collection contains. This saves time when it comes to communication and makes the exchange of objects for research purposes easier. Thanks to the high resolution, important details can be identified from the photos alone, which speeds up the work process.
Digitalisation and its limits
Despite the clear benefits, there are also limits to the digitalisation of collections. It is an important tool, but cannot replace physical collections. For example, it gives the broader public an insight into the beauty of the world of insects, thereby increasing interest in the topic. To fully understand various topics related to the natural world, however, this must be combined with the necessary specialist knowledge.
Research often requires the physical object, particularly when it comes to identifying a species: DNA tests, determining sex, etc. cannot be managed digitally. To investigate the distribution of particular butterflies or the decline of beetle species in detail, for example, a digital version of the animal is nowhere near enough
Our insects on FLICKR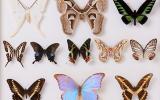 Mit dem Schmetterlingsforscher hinter die Kulissen